Search for cars*
1918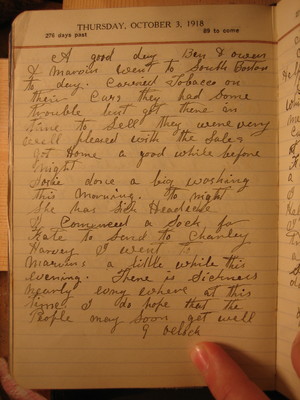 A good day. Ben and Owen and Marvin went to South Boston to day. Carried tobacco on their cars. They had some trouble but got there in time to sell. They were very well pleased with the sales. Got home a good while before night.
Josie done a big washing this morning. To night she has sick headache. I commenced a sock for Kate to send to Charlie Harvey. I went to Marvins a little while this evening. There is sickness nearly every where at this time. I do hope that the people may soon get well.
9 oclock
Last edit almost 11 years ago by
Ben Brumfield
1919
1921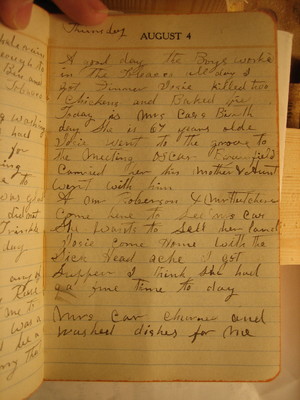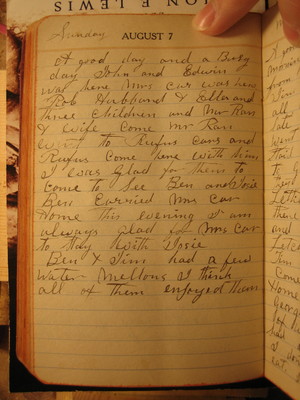 A good day and a busy day. John and Edwin was here. Mrs Car was here.
Rob Hubbard & Ella and three children and Mr Ran & wife come. Mr Ran went to Rufus Cars and Rufus come here with him. I was glad for them to come to see Ben and Josie. Ben carried Mrs Car home this evening. I am always glad for Mrs Car to stay with Josie.
Ben & Jim had a few water mellons. I think all of them enjoyed them.
Last edit over 9 years ago by
Ben Brumfield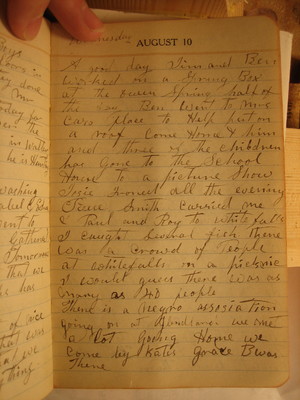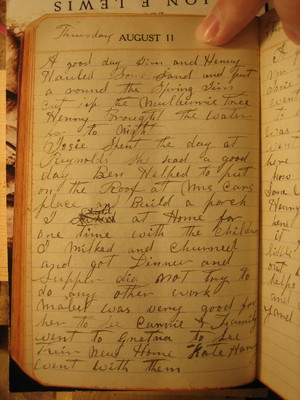 A good day. Jim and Henry hauled some sand and put a round the spring. Jim cut up the mulberrie tree. Henry brought the water for to night.
Josie spent the day at Reynolds. She had a good day. Ben helped to put on the roof at Mrs Cars place and build a porch. I staid at home for one time with the children. I milked and churned and got dinner and supper. Did not try to do any other work.
Mabel was very good for her to be. Carrie & family went to Gretna to see their new home. Kate Harvey went with them.
Last edit over 9 years ago by
Ben Brumfield
1920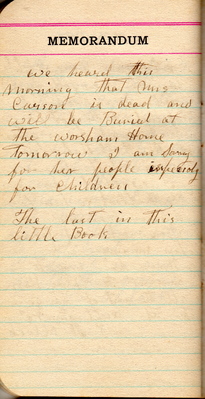 We heard this morning that Mrs Carson is dead and will be buried at the Worsham home tomorrow. I am sorry for her people especialy for children.
The last in this little book.
Last edit about 10 years ago by
Linda Tucker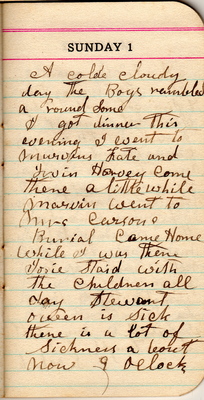 A colde cloudy day. The boys rambled a round some. I got dinner this evening. I went to Marvins. Kate and Irvin Harvey come there a little while. Marvin went to Mrs Carsons burial. Came home while I was there. Josie staid with the children all day. Stewart Owen is sick. There is a lot of sickness a bout now. 9 oclock
Last edit about 10 years ago by
Linda Tucker
1922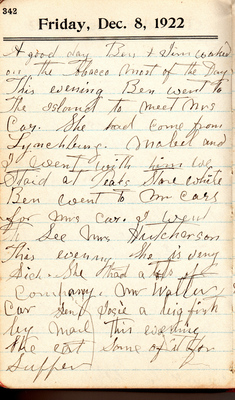 A good day. Ben & Jim worked on the tobacco most of the day. This evening Ben went to the island to meet Mrs Car. She had come from [Lynchburg?]. Mabel and I went with him. We staid at Peaks store while Ben went to Mr Cars for Mrs Car. I went to see Mrs Hutcherson this evening. She is very sick. She had a lot of company. Mr Walter Car sent Josie a big fish by mail this evening. She eat some of it for supper.
Last edit almost 6 years ago by
mkstewart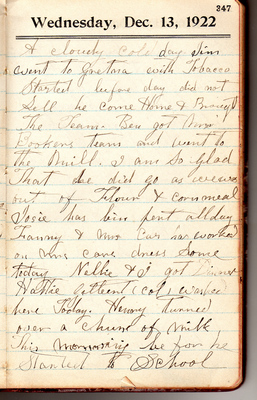 A cloudy cold day. Jim went to Gretna with tobacco. Started before day. Did not sell. He came home & brought the team. Ben got Mr Bookers team and went to the mill. I am so glad that he did go as we was out of flour & cornmeal. Josie has bin pent all day. Fanny & Mrs Car has worked on Mrs Cars dress some today. Nellie & I got dinner. Hattie Gilbert(col) washed here today. Henry turned over a churn of milk this morning be for he started to school.
Last edit almost 6 years ago by
mkstewart
1923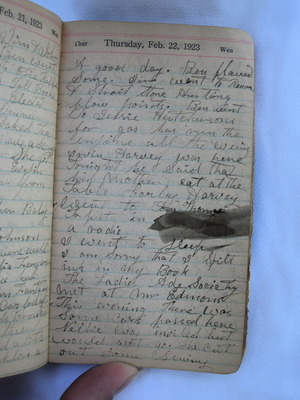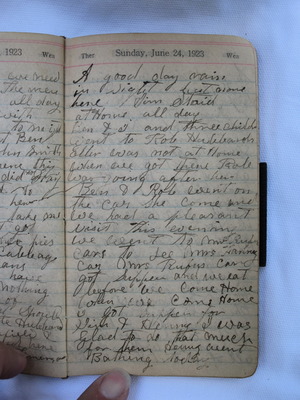 A good day. Rain in sight but none here. Jim staid at home all day. Ben and I and three children went to Role Hubbards. Ellen was not at home when we got there. Role was going after her. Ben and Role went on the car. She come and we had a pleasant visit. This evening we went to Mr. Rufus Cars to see Mrs Fanny Car. Mrs. Rufus Car got supper and we eat before we come home. I got supper for Jim and Henry. I was glad to do that much for them. Henry went bathing today.
Last edit over 6 years ago by
Nathani