Search for packed*
1921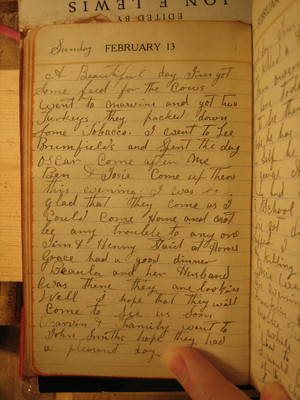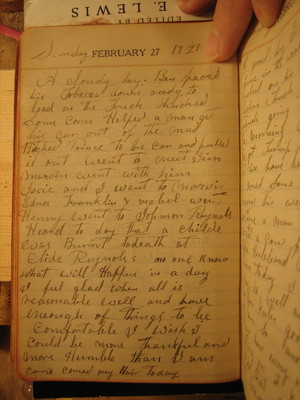 1922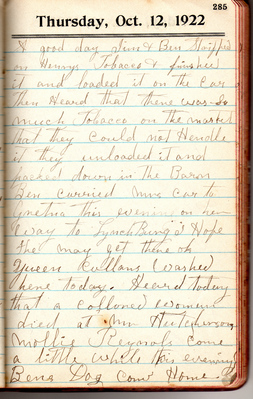 A good day. Jim & Ben stripped on Henry's tobacco & finished it and loaded it on the car. Then heard that there was so much tobacco on the market that they could not hendle it. They unloaded it and packed down in the barn. Ben carried Mrs Car to Gretna this evening on her way to Lynchburg. I hope she may get there ok. Queen Callans washed here today. Heard today that a collored woman died at Mr Hutcherson's. Mollie Renols come a little while this evening. Ben's dog come home.
Last edit almost 6 years ago by
mkstewart
1923
Some rain today. We need it and more yet Carrie packed a nice lunch and Carrie and all the children and I started to go to Taylors Mill. It commenced to rain while we were at Gretna. We went on until we near the mill and it rained so hard that we come home. We eat dinner at home and spent the evening mending the childrens clothes and going to the snap patch. Carrie had to take little Julia. That was a job on her. I have wrote a note home to night and so much hope that they are well at home.
Last edit over 6 years ago by
Nathani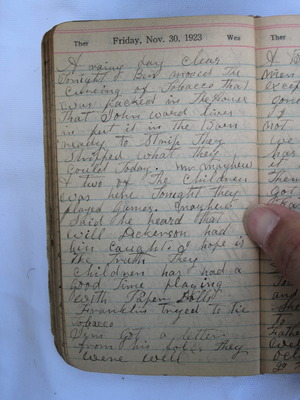 A rainy day. Clear tonight. Ben moved the cureing of tobacco that was packed in the house that John Ward lives in. Put it in the barn ready to strip. They stripped what they could today. Mr. Mayhew and two of the children was here tonight. They played games. Mayhew said he heard that Will Dickerson had bin caught. I hope is the truth. They children has had a good time playing with paper dolls. Franklin tryed to tie tobacco. Jim got a letter from his folks. They were well.
Last edit almost 6 years ago by
Nathani