Search for overalls*
1919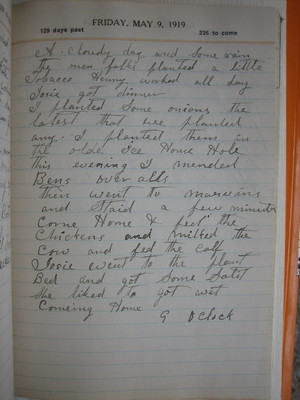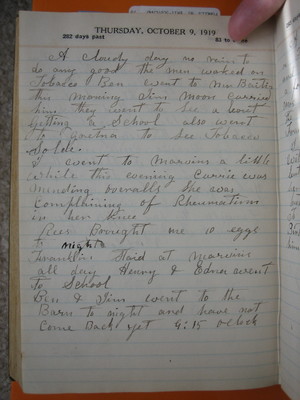 1921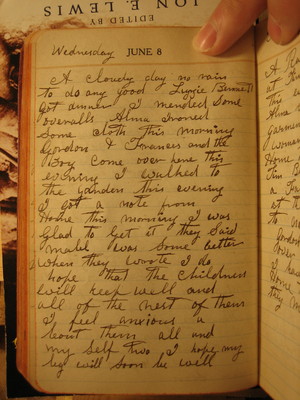 A cloudy day. No rain to do any good. Lizzie Bennett got dinner. I mended some overalls. Alma ironed some cloth this morning. Gordon & Frances and the boy come over here this evening. I walked to the garden this evening.
I got a note from home this morning. I was glad to get it. They said Mabel was some better when they wrote. I do hope that the children will keep well and all of the rest of them. I feel anxious a bout them all and my self two. I hope my leg will soon be well.
Last edit about 10 years ago by
Ben Brumfield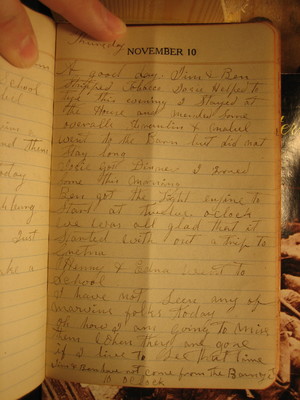 A good day. Jim & Ben stripped tobacco. Josie helped to tye this evening. I stayed at the house and mended some overalls. Franklin & Mabel went to the barn but did not stay long. Josie got dinner. I ironed some this morning. Ben got the light engine to start at twelve oclock. We was all glad that it started with out a trip to Gretna. Henry & Edna went to school. I have not seen any of Marvins folks today. Oh how I am going to miss them when they are gone if I live to see that time. Jim & Ben have not come from the barn yet. 10 oclock
Last edit almost 11 years ago by
Linda Tucker
1922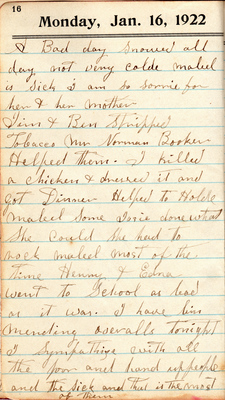 1923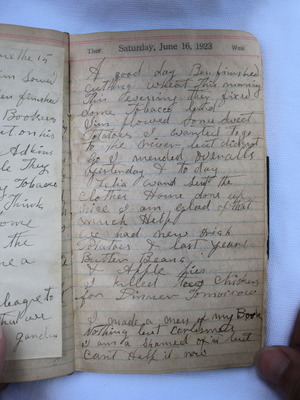 A good day. Ben finished cutting wheat this morning. This evening they fixed some tobacco land. Jim plowed some sweet potatoes. I wanted to go to the river but did not go. I mended overalls yesterday and to day. Lelia Ward sent the clothes home done up nice. I am glad of that much help. We had new Irish potatoes and last years butter beans and apple pies. I killed two chickens for dinner tomorrow. I made a mess of my book. Nothing but carelessness. I am ashamed of it but cant help it now.
Last edit almost 7 years ago by
Nathani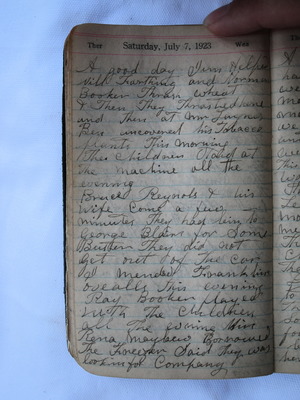 A good day. Jim helped [Will?] Farthing and Norman Booker thrash wheat and then they thrashed here and then then at Mr. Laynes. Ben uncovered his tobacco plants this morning. The children staid at the machine all the evening. Bruce Reynols and his wife come a few minutes. They had bin to George Blains for some butter. They did not get out of the car. I mended Franklin's overalls this evening. Ray Booker played with the children all the evening. Miss Rena Mayhew borrowed the freezer. Said they was lookin for company.
Last edit almost 7 years ago by
Nathani