Vol 631 Tramway Winch LH Reports 1884 and 1885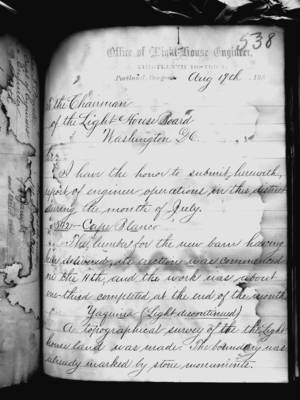 Office of the Light House Engineer Thirteenth District Portland, Oregon August 19th 1884
To the Chairman of the Light-House Board Washington DC
Sir: I have the honor to submit herewith, report of engineer operations in this district during the month of July.
542 – Cape Blanco The lumber for the new barn having been delivered, its erection was commenced on the 11th, and the work was about one-third completed as the end of the month. Yaquina (Light discontinued) A topographical survey of the lighthouse land was made. The boundary was already marked by stone monuments.
Last edit almost 4 years ago by
Wjhoward
Vol 446 RA Bensell letters YB repairs 1878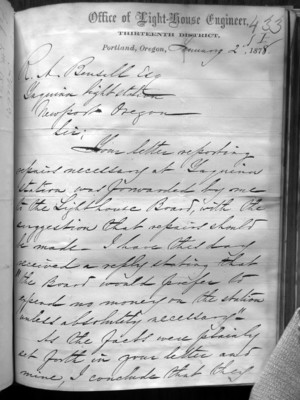 Office of Light-House Engineer, 433 Thirteenth district, Portland, Oregon, January 2, 1878 R.A. Bensell Esg Yaquina Light station Newport, Oregon Sir, Your letter reporting repairs necessary of Yaquina station was forwarded by me to the Lighthouse Board, with the suggestion that repairs should be made. I have this day received a reply stating that "the board would prefer to spend no money on the station unless absolutely necessary" As the facts were plainly set forth in your letter and mine, I conclude that they
Last edit almost 4 years ago by
Wjhoward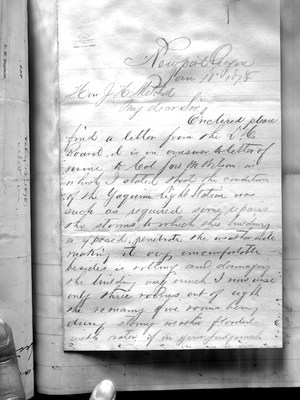 Newport, Oregon Jan 10, 1878 Hon J. H. Mitchell My dear sir, Enclosed please find a letter from the L.H. board, it is in answer to a letter of mine to Col. Ford M. Nelson, in which I stated that the condition of the Yaquina Light station was such as required some repairs. The storms to which this building is exposed penetrate the weather side making it very uncomfortable besides is rotting and damaging the building very much. I now use only three rooms out of eight, the remaining five rooms being during storming weather flooded with water. If in your judgment
Last edit almost 4 years ago by
Wjhoward
Vol 348 Engineer Reports 13th Dist. 1873 and 1874 CF Exhibted YB Discontinued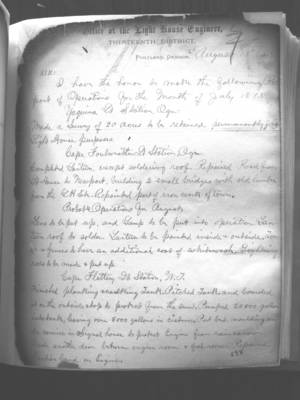 Office of the Light House Engineer Thirteenth District Portland, Oregon, August 13, 1873 Sir: I have the honor to make the following Report of Operations for the month of July 1873 Yaquina Lt Station Ogn. Made a survey of 20 acres to be retained permanently for Light House purposes. Cape Foulweather Lt. Station, Ogn Completed Lantern, except soldering roof. Repaired Road from Lt House to Newport, building 2 small bridges with old lumber from the LH Side. Repainted part of the iron of tower.
Probable Operations for August. Lens to be put up and Lamp to be put into operation. Lantern roof to solder. Lantern to be painted inside and outside. Tower and fences to have an additional coat of whitewash. Lightning rods to be made and put up. Cape Flattery LH Station, W.T. Finished planking and caulking tank. Pitched Tank, and boarded is on the outside and top to protect from the sun. Pumped 20 000 gallons into tank, leaving over 8000 gallons is cistern. Put bad-moulding under cornice in Signal house to protect Engine from rain and snow-made another door between engine room and fuel room. Repaired fiction band on Engine.
Last edit almost 4 years ago by
Wjhoward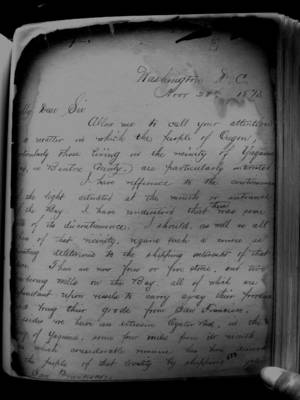 Washington DC Nov 28th 1873
My Dear Sir Allow me to call to your attention a matter in which the people of Oregon, particularly those living in the vicinity of Yaquina Bay, in Benton County, are particularly interested. I have reference to the continuance of the light situated at the mouth or entrance of the Bay. I have understood that there was some talk its discontinuance. I should as well as all there of that vicinity, regard such a course as operating deleterious to the shifting interests of that place. There are now four or five stores, and two lumbering mills on the Bay, all of which are dependent upon vessels to carry away their produce and bring their goods from San Francisco. Besides we have an extensive Oyster Bed, in the Bay of Yaquina, some four miles from its mouth from which considerable revenue has been derived from the people of that locality by shipping Oysters to San Francisco.
Last edit almost 4 years ago by
Wjhoward
Displaying Page 1 - 5 of 50 in total