Search for "Wash, DC"
Box 45 CF missing boxes of lens glass and skylights 1873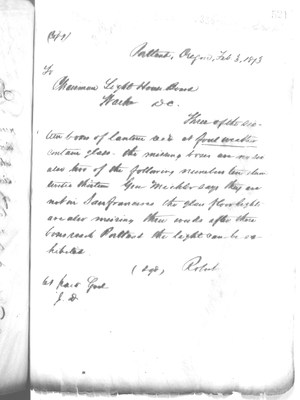 Portland, Oregon. Feb 3, 1873
To
Chairman Light House Board Wash, DC.
Three of the sixteen boxes of lantern are at Foulweather contain glass, the missing boxes are now six of the following numbers ten eleven twelve thirteen. Gen Michler says they are not in San Francisco the glass floor lights are also missing three weeks after these boxes reach Portland the light can be exhibited.
(illegible) good J.D.
Last edit over 2 years ago by
Wjhoward