1918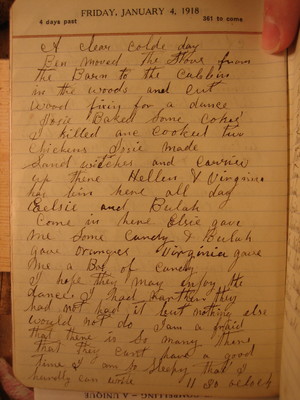 A clear colde day. Ben moved the stove from the barn to the cabbin in the woods and cut wood fixin for a dance. Josie baked some cakes. I killed and cooked two chickens. Josie made sand witches and carried up there. Hellen and Virginia has bin here all day. Elsie and Bulah come in here. Elsie gave me some candy and Bulah gave oranges. Virginia gave me a box of candy.
I hope they may enjoy the dance. I had rather they had not had it but nothing else would not do. I am a fraid that there is so many there that they cant have a good time. I am so sleepy that I hardly can write.
11 30 oclock
Last edit over 11 years ago by
Ben Brumfield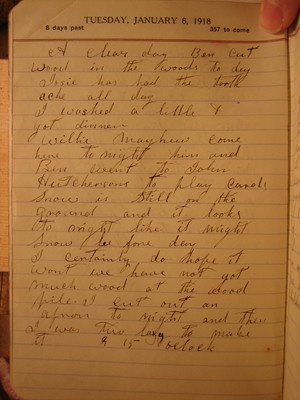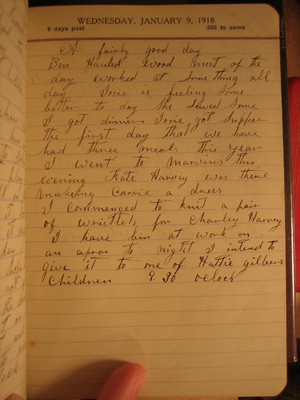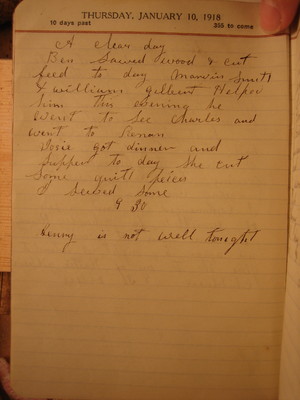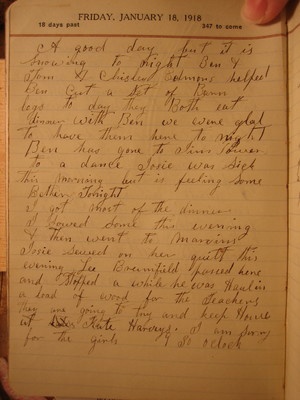 A good day but it is snowing to night. Ben and Tom and Edmons helped Ben cut a set of barn logs to day. They both eat dinner with Ben. We were glad to have them here to night. Ben has gone to Jim Powers to a dance. Josie was sick this morning but is feeling some better tonight.
I got most of the dinner. I sewed some this evening and then went to Marvins. Josie sewed on her quilt this evening. Lee Brumfield passed here and stopped a while. He was hauling a load of wood for the teachers. They are going to try and keep house at Kate Harveys. I am sorry for the girls.
9 30 oclock
Last edit over 11 years ago by
Ben Brumfield