Search for "pulled weeds" "cut some grass"
1920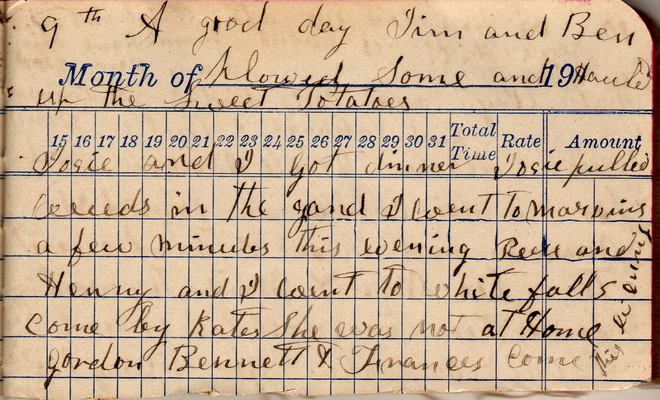 9th A good day. Jim and Ben plowed some and hauled up the sweet potatoes. Josie and I got dinner. Josie pulled weeds in the yard. I went to Marvins a few minutes this evening. Reese and Henry and I went to White Falls. Come by Kates. She was not at home. Gordon Bennett & Frances come this evening.
Last edit over 9 years ago by
Linda Tucker
1922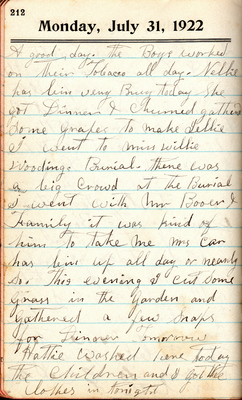 A good day. The boys worked on their tobacco all day. Nellie has bin very busy today. she got dinner & churned gathered some grapes to make jellie. I went to Miss Willie Woodings burial. There was a big crowd at the burial. I went with Mr Booer[sic] & family. It was kind of him to take me. Mrs Car has him up all day or nearly so. This evening I cut some grass in the garden and gathered a few snaps for dinner tomorrow. Hattie washed here today. The children and I got the clothes in tonight.
Last edit about 6 years ago by
mkstewart
1923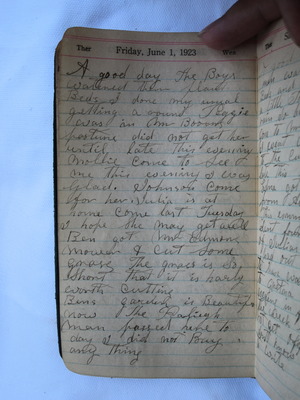 A good day. The boys watered their plant beds. I done my usual getting arond. Peggie was in Mr Bookers pasture. Did not get her until late this evening. Mollie come to see me this evening. I was glad. Johnson come for her. Julia is at home. Come last Tuesday. I hope she may get well. Ben got Mr. Edmons mower and cut some grass. The grass is so short that is is harly worth cutting. Bens garden is beautiful now. The Raleigh man passed here to day. I did not buy any thing.
Last edit over 6 years ago by
Demo User