Search for flour*
1918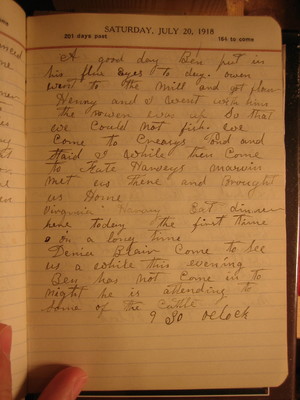 Last edit over 6 years ago by
dy957
1920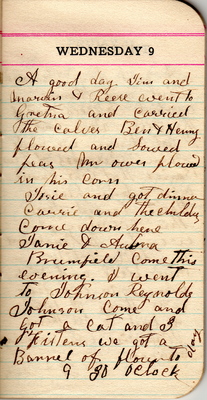 A good day. Jim and Marvin & Reese went to Gretna and carried the calves. Ben & Henry plowed and sowed peas. Mr Owen plowed in his corn. Josie and got dinner. Carrie and the children come down here. Janie & Aubra Brumfield come this evening. I went to Johnson Reynolds. Johnson come and got a cat and 3 kittens. We got a barrel of flour to day. 9 30 oclock
Last edit almost 10 years ago by
Linda Tucker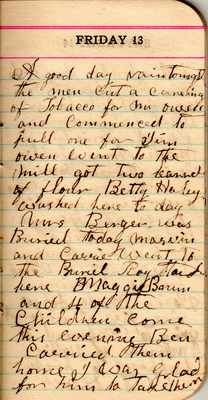 A good day. Rain tonight. The men cut a caneing of tobacco for Mr Owens and commenced to pull one for Jim. Owen went to the mill. Got two barrel of flour. Betty Haley washed here to day. Mrs Berger was buried today. Marvin and Carrie went to the buriel. Roy staid here. Maggie Bar[?] and 4 of the children come this evening. Ben carried them home. I was glad for him to take them.
Last edit over 9 years ago by
Linda Tucker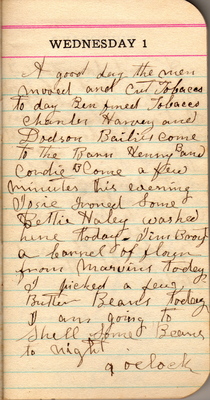 A good day. The men moved and cut tobacco to day. Ben fired tobacco. Chanler Harvey and Dodson Bailiss come to the barn. Henry B and Cordie B come a few minutes this evening. Josie ironed some. Bettie Haley washed here today. Jim brought a barrel of flour from Marvins today. I picked a few butter beans today. I am going to shell some beans to night. 9 oclock
Last edit over 9 years ago by
Linda Tucker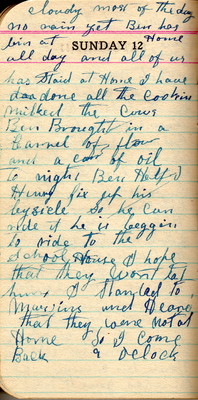 Cloudy most of the day. No rain yet. Ben has bin at home all day and all of us has staid at home. I have done all the cookin, milked the cows. Ben brought in a barrel of flour and a can of oil to night. Ben helped Henry fix up his bysicle so he can ride it. He is beggin to ride to the school house. I hope that they wont let him. I started to Marvins and heard that they were not at home so I come back. 9 oclock
Last edit over 9 years ago by
Linda Tucker
1922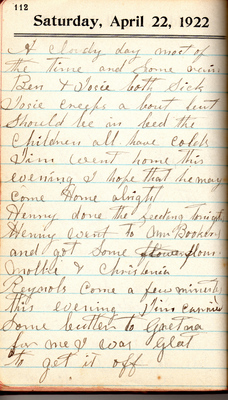 A cloudy day most of the time and some rain. Ben and Josie both sick. Josie creeps about but should be in bed. The children all have colds. Jim went home this evening. I hope that he may come home alright.
Henry done the feeding tonight. Henry went to Mr Bookers and got some flour.
Mollie and Christenia Reynols come a few minutes this evening. Jim carried some butter to Gretna for me. I was glad to get it off.
Last edit almost 6 years ago by
mkstewart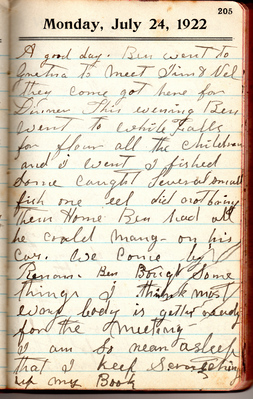 A good day. Ben went to Gretna to meet Jim & Nel. They come got here for dinner. This evening Ben went to White Falls for flour. All the children and I went & fished. Some caught several small fish one eel did not bring them home. Ben had all he could manage on his car. We come by Renons. Ben bought some things. I think most every body is getting ready for the meeting. I am so near asleep that I keep scratching up my book.
Last edit about 6 years ago by
mkstewart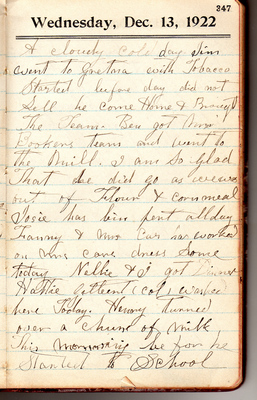 A cloudy cold day. Jim went to Gretna with tobacco. Started before day. Did not sell. He came home & brought the team. Ben got Mr Bookers team and went to the mill. I am so glad that he did go as we was out of flour & cornmeal. Josie has bin pent all day. Fanny & Mrs Car has worked on Mrs Cars dress some today. Nellie & I got dinner. Hattie Gilbert(col) washed here today. Henry turned over a churn of milk this morning be for he started to school.
Last edit about 6 years ago by
mkstewart
1923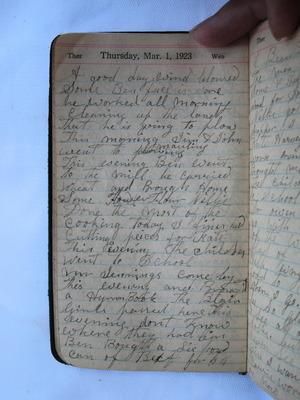 A good day. Wind blowed some. Ben face is sore. He worked all morning cleaning up the land that he is going to plow. This morning Jim and John went to mauling. This evening Ben went to the mill. He carried wheat and brought home some flour. Nellie done the most of the cooking today and finished cutting pieces for Kate. This evening the children went to school. Mr. Jennings come by this evening and brought a hymn book. The Blain girls passed here this evening. Don't know where they had bin. Ben bought a six pound can of beef for [?].
Last edit over 7 years ago by
Nathani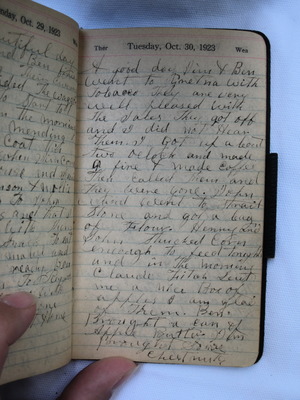 A good day. Jim and Ben went to Gretna with tobacco. They are very well pleased with the sales. They got off and I did not hear them. I got up about two oclock and made a fire and made coffee. Then called them and they were gone. John Ward went to Strait Stone and got a bag of flour. Henry and John shucked corn enough to feed tonight and in the morning. Claude [Fitch?] sent me a nice box of apples. I am glad of them. Ben brought a can of apple butter. Jim brought some chestnuts.
Last edit about 6 years ago by
Nathani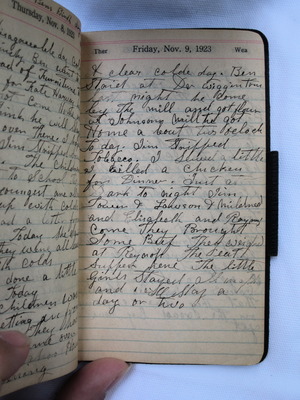 A clear colde day. Ben staid at Dr. Wiggintons last night. He come by the mill and got flour at Johnsons Mill. He got home a bout two oclock today. Jim stripped tobacco. I sewed a little. I killed a chicken for dinner. Just at dark to night Jim Power and Lawson and Mildred and Elizabeth and Raymon come. They brought some beef they weighed at Reynolds. The [sic] eat supper here. The little girls stayed all night and will stay a day or two.
Last edit about 6 years ago by
Nathani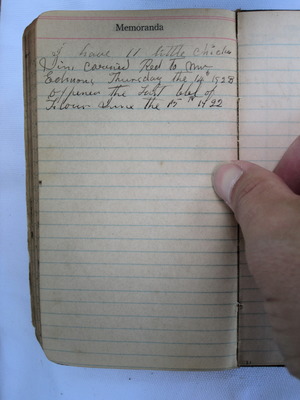 I have 11 little chicks Jim carried Red to Mr Edmons Thursday the 14th 1923 opened the Last bbl of Flour June the 15th 1922.
Last edit almost 8 years ago by
materialculture