Search for "corn bread"
1918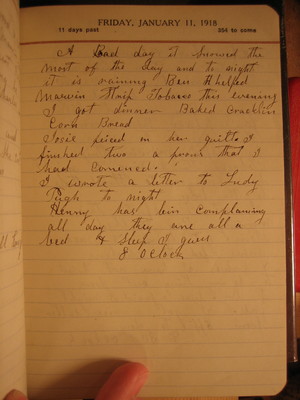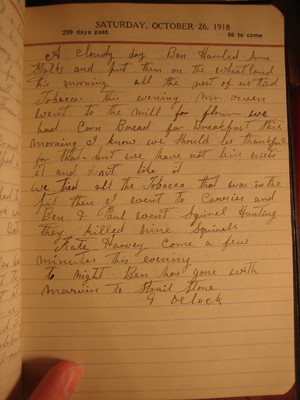 1920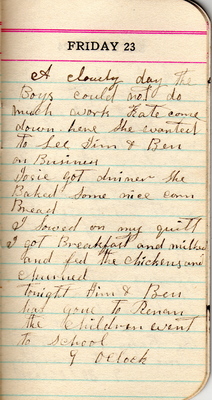 A cloudy day. The boys could not do much work. Kate come down here. She wanted to see Jim & Ben on business.
Josie got dinner. She baked some nice corn bread.
I sowed on my quilt. I got breakfast and milked and fed the chickens and churned.
Tonight Jim & Ben has gone to Renan. The children went to school.9 oclock
Last edit about 1 year ago by
Sara Brumfield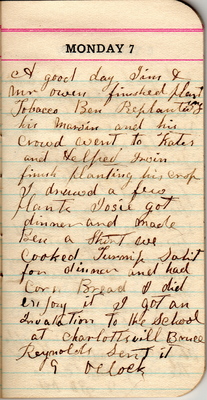 A good day. Jim & Mr Owen finished plant tobacco. Ben replanting his. Marvin and his crowd went to Kates and helped Irvin finish planting his crop. I drawed a few plants. Josie got dinner and made Ben a shirt. We cooked turnip salit for dinner and had corn bread. I did enjoy it. I got an invatation to the school at Charlottsvill. Bruce Reynolds sent it. 9 oclock
Last edit almost 10 years ago by
Linda Tucker
1922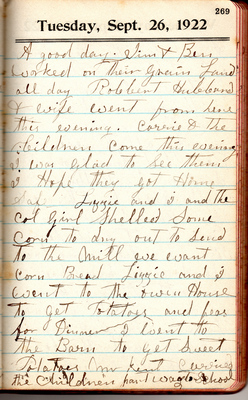 A good day. Jim & Ben worked on their grain land all day. Robbert Hubbard & wife went from here this evening. Carrie & the children come this evening. I was glad to see them. I hope they got home safe. Lizzie and I and the col girl shelled some corn to dry out to send to the mill. We want corn bread. Lizzie and I went to the [?] house to get potatoes and peas for dinner. I went to the barn to get sweet potatoes. Mr Kent carried the children part way to school.
Last edit about 6 years ago by
mkstewart
1923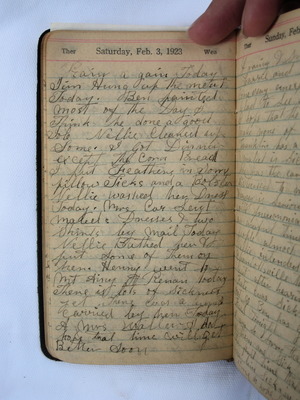 Last edit almost 8 years ago by
Nathani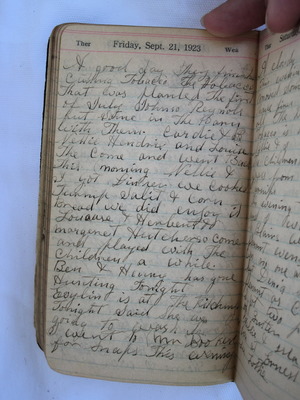 A good day. They finished cutting tobacco.The tobacco that was planted the first of July. Johnson Reynols put some in the barn with them. Cardie and Nettie Hendrix and Louise the[y] come and went back this morning. Nellie and I got dinner. We cooked turnip salit and corn bread. We did enjoy it. Louise and Herbert and Margaret Hutcherson come and played with the children a while. Ben and Henry has gone hunting tonight. Evylin is at the [kitchen?] tonight. Said she was going to wash [?]. I went to Mr. Booker's for snaps this evening.
Last edit over 6 years ago by
Nathani