Search for cleared*
1918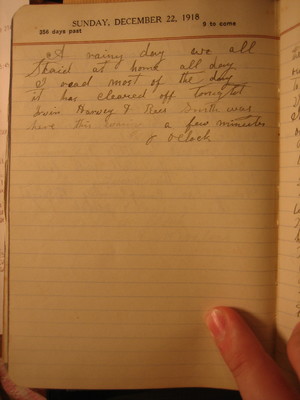 1921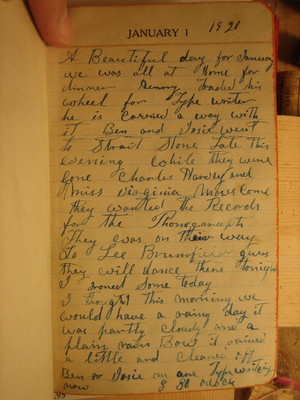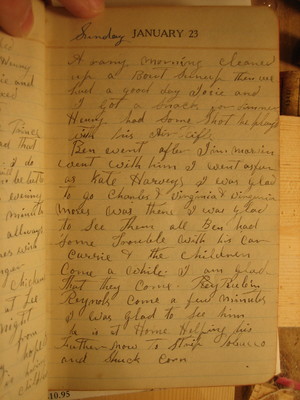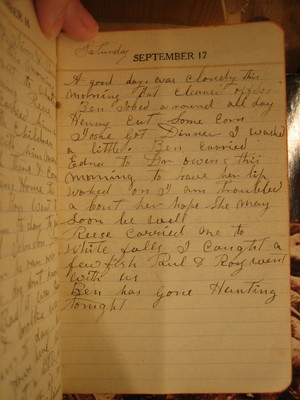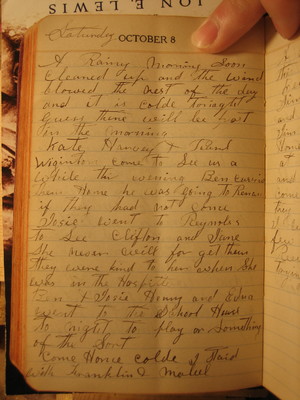 1920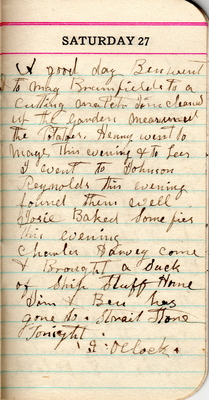 A good day. Ben went to Mag Brumfields to a cutting match. Jim cleared up the garden nearest [?] the potatoes. Henry went to Mags this evening & to Lees. I went to Johnson Reynolds this evening. Found them all well. Josie baked some pies this evening. Charles Harvey come & brought a sack of ship stuff home. Jim & Ben has gone to Strait Stone tonight.
9 oclock
Last edit about 10 years ago by
Linda Tucker
1922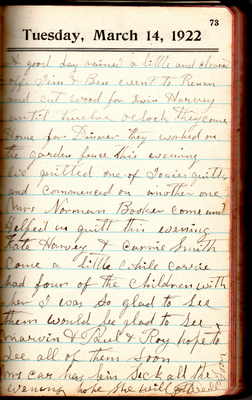 A good day. Rained a little and cleared off. Jim & Ben went to Renan and cut wood for Irvin Harvey until twelve oclock. They come home for dinner. They worked on the garden fence this evening. We quilted one of Josies quilts and commenced on another one.
Mrs. Norman Booker come and helped us quilt this evening.
Kate Harvey & Carrie Smith come a little while. Carrie had four of the children with her. I was so glad to see them. Would be glad to see Marvin & Paul & Roy. Hope to see all of them soon. Mrs Car has bin sick all the evening hope she will get well soon.
Last edit over 5 years ago by
Ben Brumfield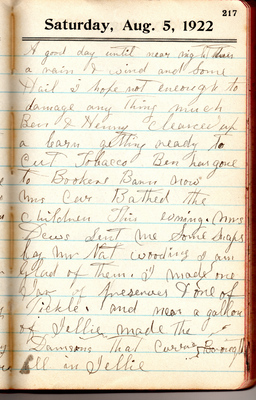 A good day until near night then a rain & wind and some hail. I hope not enough to damage any thing much. Ben & Henry cleared up a barn getting ready to cut tobacco. Ben has gone to Bookers barn now. Mrs Car bathed the children this evening. Mrs Dews sent me some snaps by Mr Nat Wooding. I am glad of them. I made one jar of preserves & one of pickle, and near a gallon of jellie made the damsons that Carrie brought all in jellie.
Last edit about 6 years ago by
mkstewart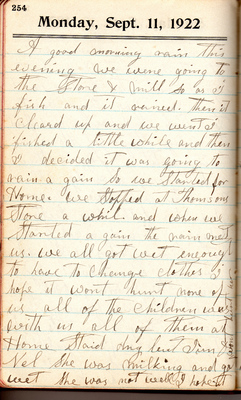 A good morning rain this evening. We were going to the Store & mill so as to fish and it rained. Then it cleared up and we went. I fished a little while and then I decided it was going to rain a gain so we started for home. We stopped at Thomsons Store a while and when we started a gain the rain met us. We all got wet eneough to have to change clothes. I hope it wont hurt none of us. All of the children was with us. All of them at home staid dry but Jim & Nel. She was milking and got wet. She was not well. I hope it wont hurt her.
Last edit about 6 years ago by
mkstewart
1923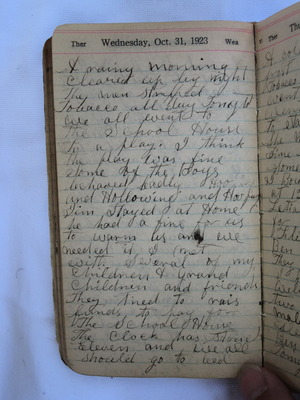 A rainy morning. Cleared up by night. The men stripped tobacco all day. Tonight we all went to the school house to a play. I think the play was fine. Some of the boys behaved badly hoo[t?]ing and hollowing and hoo[p?]ing. Jim stayed at home. He had a fire for us to warm us and we needed it. I met with several of my children and grand children and friends. They tried to rais funds to pay for the school house. The clock has struck eleven and we all should go to bed.
Last edit about 6 years ago by
Nathani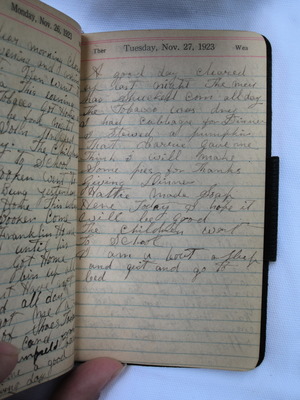 A good day. Cleared up last night. The men has shucked corn all day. The tobacco was dry. I had cabbage for dinner. I stewed a pumpkin that Carrie gave me. Think I will make some pies for Thanks Giving dinner. Hattie made soap here today. I hope it will be good. The children went to school. I am a bout a sleep and git[?] and go to bed.
Last edit about 6 years ago by
Nathani