Search for Scruggs* "Mr Scrugs"
1920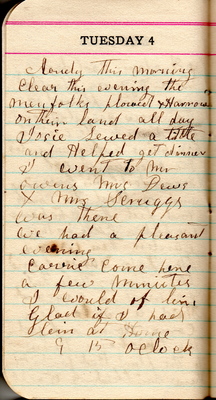 Cloudy this morning. Clear this evening. The men folks plowed & harrowed on their land all day. Josie sewed a little and helped get dinner. I went to Mr Owens. Mrs Dews & Mrs. Scruggs was there. We had a pleasant evening. Carrie come here a few minutes. I would of bin glad if I had bin at home.
9 15 oclock
Last edit almost 10 years ago by
Linda Tucker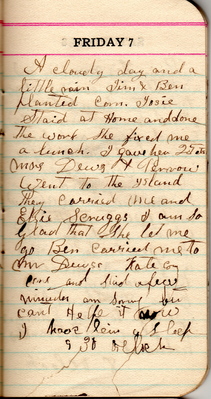 A cloudy day and a little rain. Jim & Ben planted corn. Josie staid at home and done the work. She fixed me a lunch. I gave her 25 cts. Mrs Dews & Terrow [?] went to the island. They carried me and Elsie Scruggs. I am so glad that she let me go. Ben carried me to Mr Dewss. Kate come and staid a few minutes. Am sorry but cant helpe it now. I have bin a sleep.
9 30 oclock
Last edit almost 10 years ago by
Linda Tucker