Search for "Miss Janie Gravley" "Janie Gravley" "Miss Janie" "Janie Gravely" "Janey Gravely" "Jany Graveley" "Miss Janie Gravely"
1922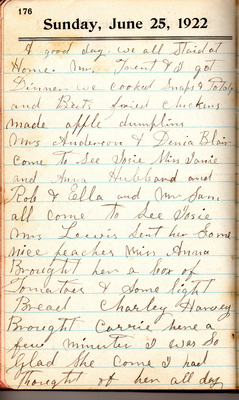 A good day. We all staid at home. Mr. Trent & I got dinner. We cooked snaps & [potatos?] and beets friend chickens made apple dumplings Mrs. Anderson & Denia Blair come to see Josie. Miss Janie and Anna Hubbard and Rob & Ella and Mr. Sam all come to see Josie. Mrs. Lewis sent her some nice peaches. Miss Anna brought her a box of tomatoes & some light bread. Charley Harvey brought Carrie here a few minutes. I was so glad she come. I had thought of her all day.
Last edit about 6 years ago by
gutterpeach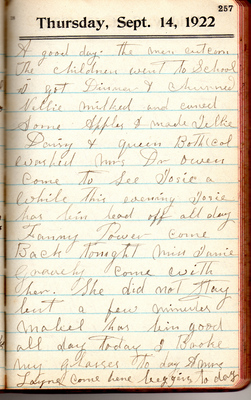 A good day. The men cut corn. The children went to school. I got dinner & churned. Nellie milked and caned some apples & made jellie. Daisy & Queen both (col[oured)] washed. Mrs Dr Owen come to see Josie a while this evening. Josie has bin lead off all day. Fanny Power come back tonight. Miss Janie Gravely come with her. She did not stay but a few minutes. Mabel has bin good all day today. I broke my glasses to day. A Mrs Layne come here begging today.
Last edit almost 6 years ago by
mkstewart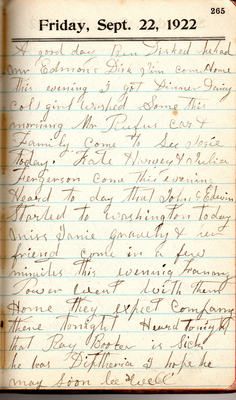 A good day. Ben disked. He had Mr Edmons disk. Jim come home this evening. I got dinner. Daisy col girl washed some this morning. Mr Rufus Car & family come to see Josie today. Kate Harvey & Julia Fergerson come this evening. Heard to day that John & Edwin started to Washington today. Miss Janie Gravely & her friend come in a few minutes this evening. Fanny Power went with them home. They expect company there tonight. Heard tonight that Ray Booker is sick. He has diphtheria. I hope he may soon be well.
Last edit almost 6 years ago by
mkstewart