Search for "Mr. Bailiss"
1918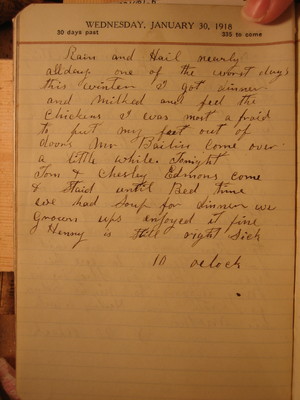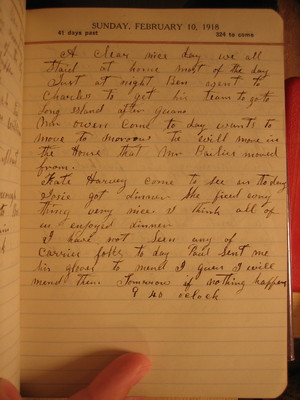 A clear nice day. We all staid at home most of the day. Just at night Ben went to Charless to get his team to go to Long Island after guano.
Mr Owen come to day wants to move to morrow. He will move in the house that Mr Bailiss moved from.
Kate Harvey come to see us to day. Josie got dinner. She fixed every thing very nice. I think all of us enjoyed dinner.
I have not seen any of Carries folks to day. Paul sent me his gloves to mend. I guess I will mend them tomorrow if nothing happens.
9 40 oclock
Last edit about 11 years ago by
Ben Brumfield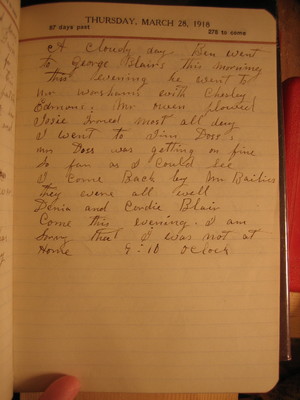 A cloudy morning and rain this evening.
Josie washed this morning did not hang out the clothes. She put in a quilt this evening and we quilted some. Ben went to Strait Stone this evening. Marvin went with him.
The branch was most passed fording. He come home and helped me milk.
10 oclock
Mr Bailiss come and bought some butter this evening.
Last edit about 11 years ago by
Ben Brumfield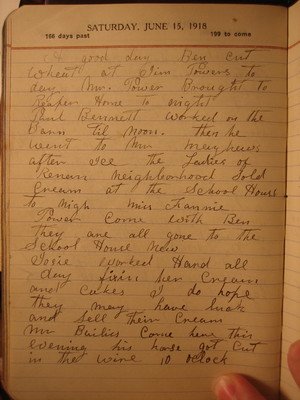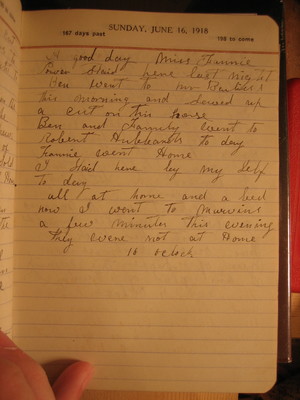 A good day. Miss Fannie Power staid here last night. Ben went to Mr Bailiss's this morning and sewed up a cut on his horse.
Ben and family went to Robert Hubbards to day. Fannie went home.
I staid home by my self to day.
All at home and a bed now. I went to Marvins a few minutes this evening. They were not at home.
10 oclock
Last edit almost 11 years ago by
Ben Brumfield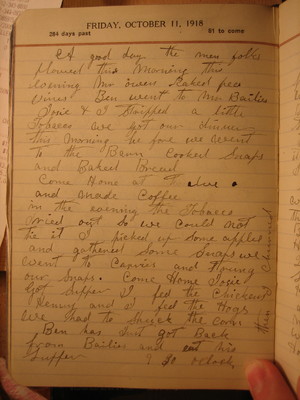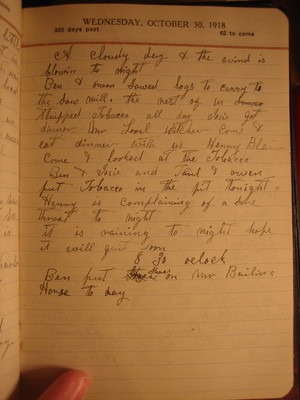 1919