Search for heifer*
1921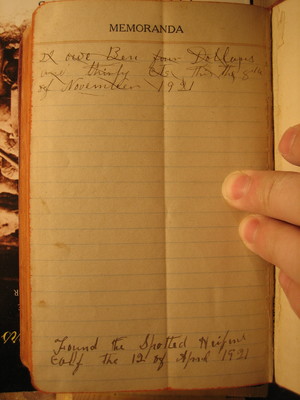 I owe Ben four dollars and thirty cts this the 8th of November 1921
[Entry is crossed out.]
[printed at the bottom of the page] Found the spotted heifer calf the 12 of April 1921
Last edit over 10 years ago by
LauraC
1920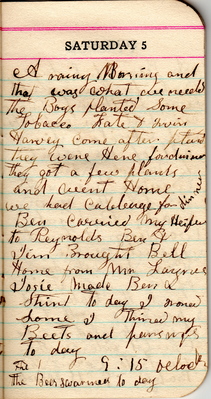 A rainy morning and that was what we needed. The boys planted some tobacco. Kate & Irvin Harvey come after plants. They were here for dinner. They got a few plants and went home. We had cabbage for dinner. Ben carried my heifer to Reynolds. Ben & Jim brought Bell home from Mr Laynes. Josie made Ben a shirt to day. I ironed some. I thined my beets and parsnips to day. 9:15 oclock The bees swarmed to day.
Last edit almost 10 years ago by
Linda Tucker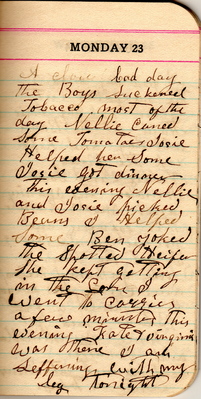 A cloudy bad day. The boys suckered tobacco most of the day. Nellie caned some tomatoes. Josie helped her some. Josie got dinner. This evening Nellie and Josie picked beans. I helped some. Ben yoked the spotted heifer. She kept getting in the corn. I went to Carries a few minutes this evening. Kate & Virginia was there. I am suffering with my leg tonight.
Last edit over 9 years ago by
Linda Tucker