Search for "washing machine" "new washer" "washing machine" "machine engine" machine*
1918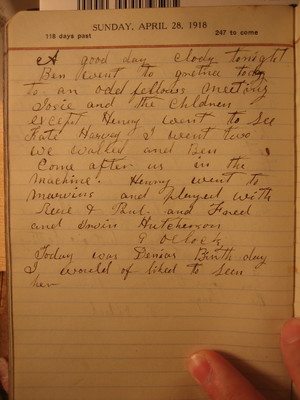 1919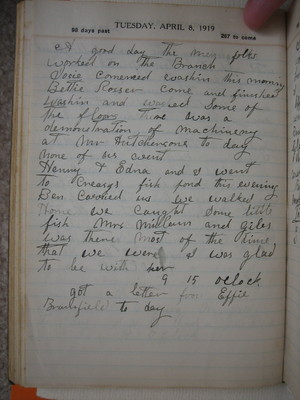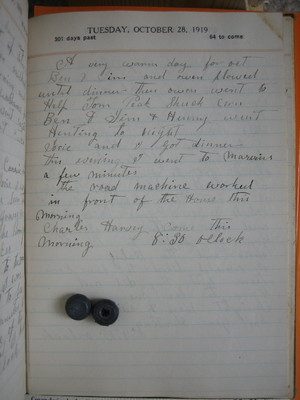 1921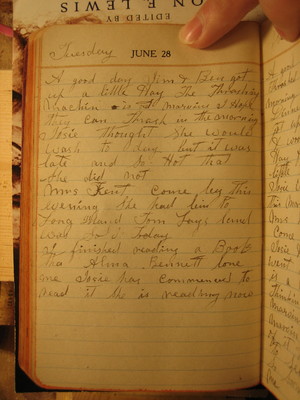 1920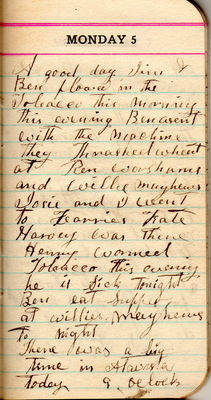 A good day. Jim & Ben plowed in the tobacco this morning. This evening Ben went with the machine. They thrashed wheat at Ren Worshams and Willie Mayhews. Josie and I went to Carries. Kate Harvey was there. Henry wormed tobacco this evening. He is sick tonight. Ben eat supper at Willies Mayhews to night. There was a big time in Altavista today. 9 oclock
Last edit over 9 years ago by
Linda Tucker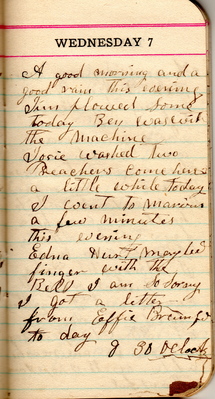 A good morning and a good rain this evening. Jim plowed some today. Ben was with the machine. Josie washed two Preachers [?] come here a little while today. I went to Marvins a few minutes this evening. Edna hurt Maybels finger with the bell. I am so sorry. I got a litter from Effie Brumfield to day. 8:30 oclock
Last edit over 9 years ago by
Linda Tucker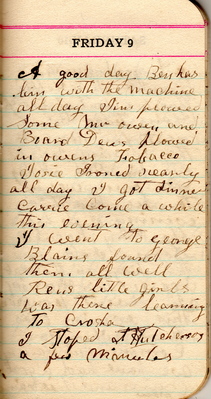 A good day. Ben has bin with the machine all day. Jim plowed some. Mr Owen and Board Dews plowed in Owens tobacco. Josie ironed nearly all day. I got dinner. Carrie come a while this evening. I went to George Blairs. Found them all well. Rens little girls was there learning to crosha. I stoped at Hutchersons a few minutes.
Last edit over 9 years ago by
Linda Tucker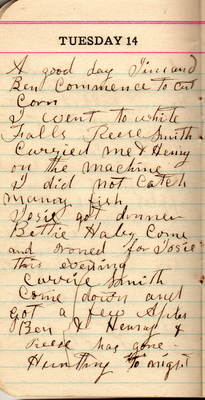 A good day. Jim and Ben commence to cut corn. I went to White Falls. Reese Smith carried me & Henry on the machine. I did not catch many fish. Josie got dinner. Bettie Haley come and ironed for Josie this evening. Carrie Smith come down and got a few aples. Ben & Henry & Reese has gone hunting to night.
Last edit over 9 years ago by
Linda Tucker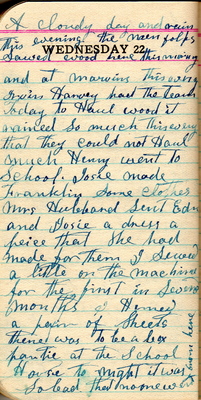 A cloudy day and rain this evening. The men folks sawed wood here this morning and at Marvins this evening. Irvin Harvey had the team today to haul wood. It rained so much this evening that they could not haul much. Henry went to school. Josie made Franklin some clothes. Mrs Hubbard sent Edna and Josie a dress a peice that she had made for them. I sewed a little on the machine for the first in several months. I hemed a pair of sheets. There was to be a box partie at the school house to night. It was so bad that no one went from here.
Last edit about 9 years ago by
Linda Tucker
1922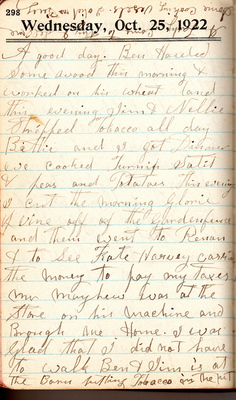 A good day. Ben hauled some wood this morning & worked on his wheat land this evening. Jim & Nellie stripped tobacco all day. Bettie and I got dinner. We cooked turnip & peas and potatoes. This evening I cut the Morning Glorie vine off of the garden fence and then went to Renan & to see Kate Harvey carrie the money to pay my taxes. Mr Mayhew was at the store on his machine and brough me home. I was glad that I did not have to walk. Ben & Jim is at the barn putting tobacco in the pit.
Last edit almost 6 years ago by
mkstewart
1923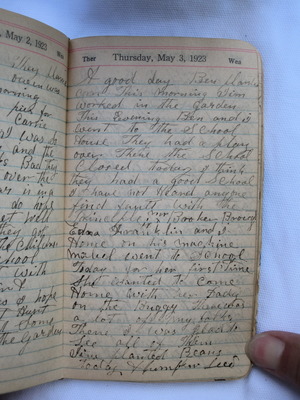 A good day. Ben planted corn this morning. Jim worked in the garden. This evening Ben and I went to the school house. They had a play over there. The school closed today. I think they had a good school. I have not heard anyone find fault with the principle. Mr. Booker brought Edna Franklin and I home on his machine. Mabel went to school today for her first time. She wanted to come home with her dady on the buggy. There was was a lot of my folks there. I was glad to see all of them. Jim planted beans today and pumpkin seed.
Last edit over 6 years ago by
Nathani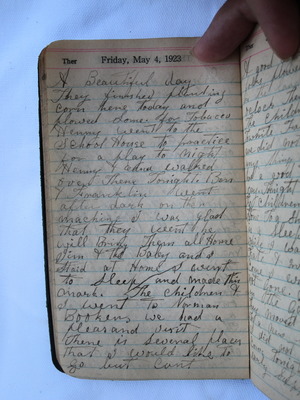 A beautiful day. They finished planting corn here today and plowed some for tobacco. Henry went to the school house to practice for a play to night. Henry and Edna walked over there tonight. Ben and Franklin went after dark on the machine. I was glad that they went. He will bring them all home. Jim and the baby and I staid at home. I went to sleep and made this mark. The children and I went to Norman Bookers. We had a pleasant visit. There is several places that I would like to go but can't.
Last edit over 6 years ago by
Nathani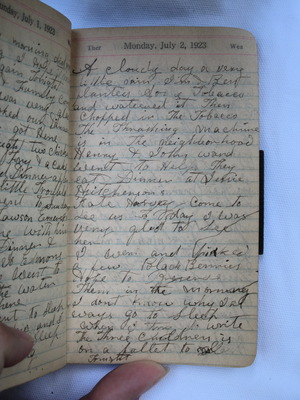 A cloudy day. A very little rain. Jim and Ben planted some tobacco and watered it. Then chopped in the tobacco. The threshing machine is in the neighborhood. Henry and John Ward went to help. They eat dinner at Jessie Hutchersons. Kate Harvey come to see us today. I was very glad to see her. I went and picked a few black berries. Hope to preserve them in the mroning. I don't know why I al ways go to sleep when I try to write. The three children is on a pallet to[?] tonight [sic].
Last edit over 6 years ago by
Nathani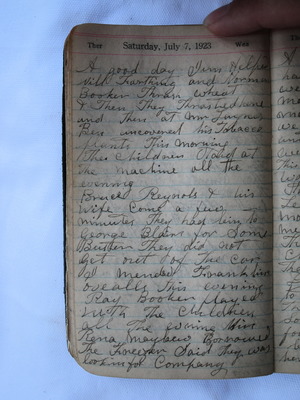 A good day. Jim helped [Will?] Farthing and Norman Booker thrash wheat and then they thrashed here and then then at Mr. Laynes. Ben uncovered his tobacco plants this morning. The children staid at the machine all the evening. Bruce Reynols and his wife come a few minutes. They had bin to George Blains for some butter. They did not get out of the car. I mended Franklin's overalls this evening. Ray Booker played with the children all the evening. Miss Rena Mayhew borrowed the freezer. Said they was lookin for company.
Last edit over 6 years ago by
Nathani