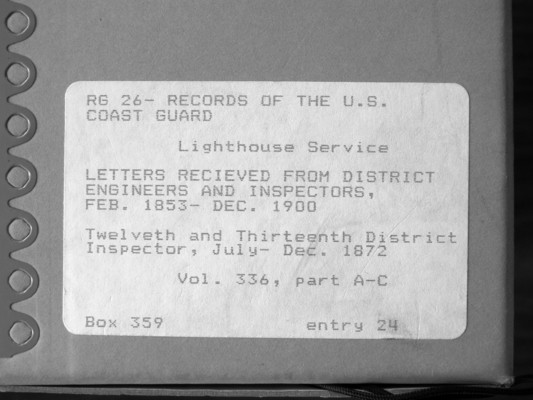 RG 26 RECORDS OF THE U.S. COAST GUARD
LETTERS RECIEVED FROM DISTRICT ENGINEERS AND INSPECTORS, FEB. 1853 – DEC. 1900
Twelveth and Thirteenth District Inspector, July – Dec. 1872
Vol. 336 – part A-C
Box 359 entry 24
Last edit over 2 years ago by
Jayk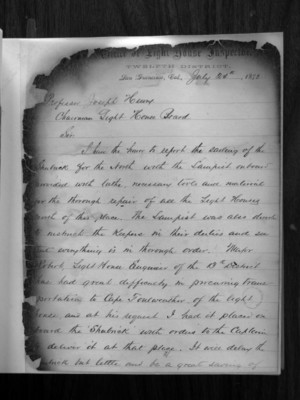 Office of Light-House Inspector, Twelfth District, San Francisco, Cal., July 24th, 1872
Professor Joseph Henry, Chairman Light House Board Sir: I have the honor to report the sailing of the Shubrick for the North with the Lampist on board provided with lathe, necessary tools and material for the thorough repair of all the Light Houses north of this place. The Lampist was also directed to instruct the Keepers in their duties and see that everything is in thorough order. Major Robert, Light House Engineer of the 13th District has had great difficulty in procuring trans portation to Cape Foulweather, of the light house, and at his request I had it placed on board the "Shubrick" with orders to the Captain to deliver it at that place. It will delay the Shubrick but little and be a great saving of
Last edit about 3 years ago by
lkarnatz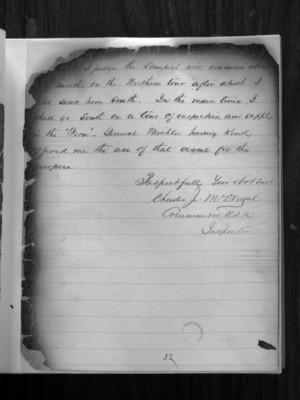 I judge the Lampist will consume about [?] months on the Northern tour after which I will send him South. In the mean time, I shall go South on a tour of inspection and supply, in the "Fern" -- General Michler having kindly offered me the use of that vessel for the purpose.
Respectfully Your [obed. serv.?] Charles J. McDougal, Commander USN Inspector
Last edit about 3 years ago by
lkarnatz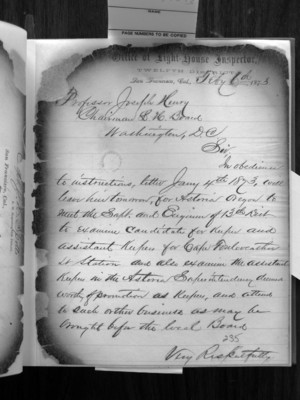 Office of Light-House Inspector Twelfth District, San Francisco, Cal., Feb 6th, 1873
Professor Joseph Henry Chairman L.H.Board Washington, D.C. Sir, In obedience to instructions, letter Jany. 4th 1873, will leave him??? tomorrow, for Astoria Oregon to meet the Supt. and Engineer of 13th Dist. to examine candidates for Keeper and assistant Keeper for Cape Foulweather Lt. Station and also examine the assistant Keeper in the Astoria Superintendencey deemed worthy of promotion as Keeper, and attend to such other business as may be brought before the local Board.
Very respectfully,
Last edit about 3 years ago by
lkarnatz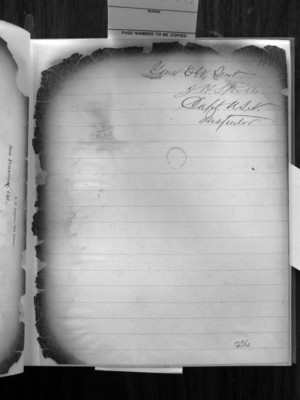 Displaying Page 1 - 5 of 59 in total