1918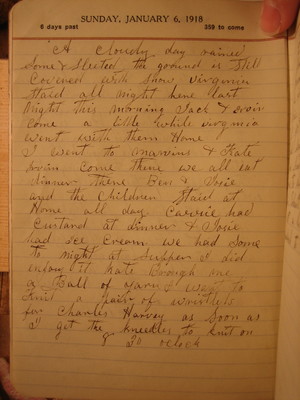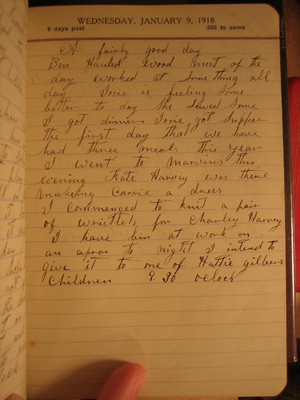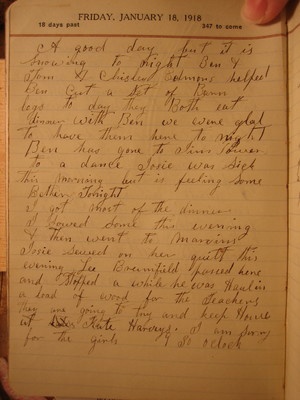 A good day but it is snowing to night. Ben and Tom and Edmons helped Ben cut a set of barn logs to day. They both eat dinner with Ben. We were glad to have them here to night. Ben has gone to Jim Powers to a dance. Josie was sick this morning but is feeling some better tonight.
I got most of the dinner. I sewed some this evening and then went to Marvins. Josie sewed on her quilt this evening. Lee Brumfield passed here and stopped a while. He was hauling a load of wood for the teachers. They are going to try and keep house at Kate Harveys. I am sorry for the girls.
9 30 oclock
Last edit over 11 years ago by
Ben Brumfield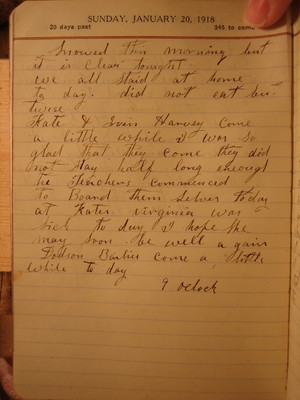 Snowed this morning but it is clear tonight.
We all staid at home to day. Did not eat but twise.
Kate and Irvin Harvey come a little while. I was so glad that they come. They did not stay half long enough. The teachers commenced to board them selves today at Kates. Virginia was sick to day. I hope she may soon be well a gain. Dodson Bailiss come a little while today.
9 oclock
Last edit about 12 years ago by
Data Cleanup Script