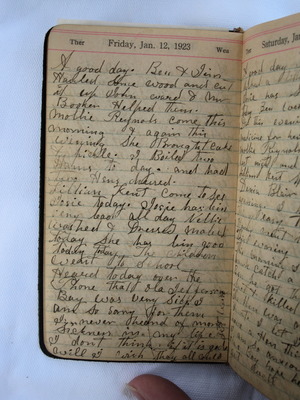 A good day. Ben & Jim hauled some wood and cut it with John Ward and Mr. Booker helped them. Mollie Reynolds come this morning and again this evening. She brought cake and pickle. I boiled two hams to day and had two hens cleaned. Lillian Kent come to see Josie today. Josie has bin very bad all day. Nellie washed and dressed Mabel (?) today. She has bin good today. Today the children went to School. Heared today over the phone that Ola Jefferson's boy was very sick. I am so sorry for them. I never heared of more sickness in my life. I don't think it is God's will. I wish they all could get well.
Last edit about 7 years ago by
mkstewart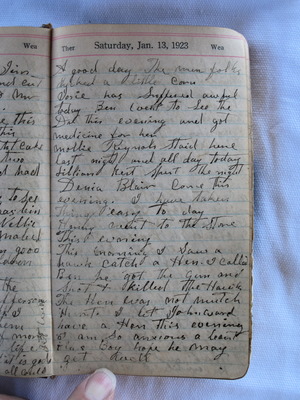 A good day. The men folks shucked a little corn. Josie has suffered awful today. Ben went to see the dr. this evening and got medicine for her. Mollie Reynolds staid here last night and all day today. Lillian Kent spent the night. Denia Blair came this evening. I have taken things easy to day. Henry went to the store this evening. This morning I saw a hawk catch a hen. I called Ben. He got the gun and shot and killed the hawk. The hen was not much hurt. I let John Ward have a hen this evening. I am so anxious a bout ??? boy. Hope he may get well.
Last edit almost 9 years ago by
Nathani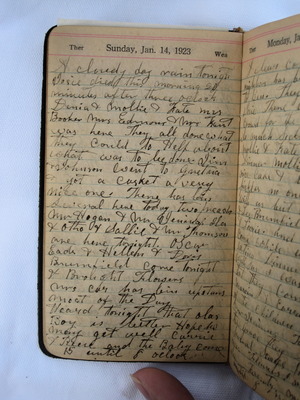 Last edit almost 9 years ago by
Nathani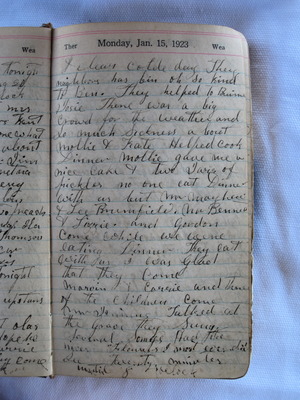 A clear colde day. The neighbors has bin oh so kind to Ben. They helped to burie Josie. There was a big crowd for the weather and so much sickness a bout. Mollie and Kate helped cook dinner. Mollie gave me a nice cake and two jars of pickles. No one eat dinner with us but Mr Mayhew and Lee Brumfield. Mr. Bennett & Lizzie and Gordon come while we were eating dinner. They eat with us. I was glad that they come. Marvin and Carrie and three of the children come. Mr. Jennings talked at the grave. They sung several songs. Had the nicest flowers I most ever did see Twenty minutes until 8 o'clock.
Last edit almost 9 years ago by
Nathani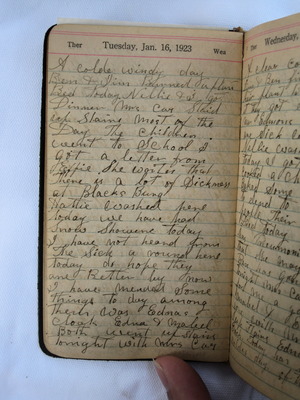 Last edit almost 9 years ago by
Nathani
Displaying Page 16 - 20 of 374 in total